Any wood left exposed to the outdoor elements will cup, crack, and warp within the first year or so if it is not protected. The two most common natural enemies of wood are sun and rain. Sun breaks down the surface fibers, causing the wood to weaken and turn gray during the process. Rain causes the wood to swell excessively, eventually leading to the breakdown of the internal fibers. Once this happens, the wood becomes spongy and weak.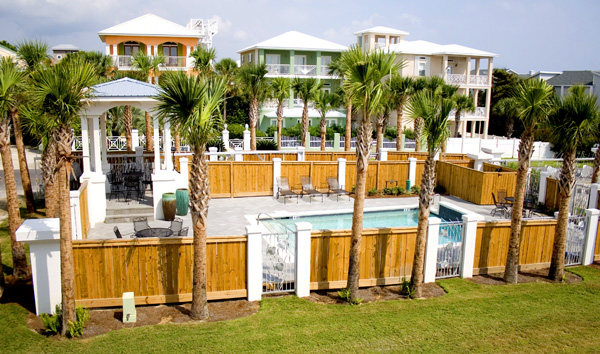 Obvious signs of trouble are:
Grayed surface (sun, or UV damage)
Warping and cracking (water damage)
Loose nails (a sign of excessive swelling and shrinking)
Wooden walls have fewer problems than decks and fences due to the fact that they are vertical surfaces protected by roofs. A vertical surface means that rain and snow drain off, leaving the wall dry. Regular fence cleaning and sealing extends the life of a deck or fence many times over and will keep clean wood fence algae. It saves trees, and saves you money over the long run. Preparation of the wood before sealing is more important than any other phase of caring for decks and fences. Proper fence cleaning:
Eliminates dirt, mildew, mold, and algae
Opens the pores of the wood
Balances the pores of the wood so that the sealer bonds to each fiber.
Choosing the right cleaner is not as easy as you might think of pressure washing fence. For example, most deck and fence cleaners are either acidic or alkaline. Many home improvement stores recommend acid-based cleaners to power wash wooden fence because they are less dangerous than most alkaline for the average homeowner to handle. Unfortunately, they are also quite a bit less effective.
Cleaner – it will deeply clean the wood and will not strip off any old finishes
Brightener – used to remove bleed marks and darkened wood will get back its natural color.
Basic recommendations when learning how to pressure wash a fence using a cleaner, brightener or stripper is to avoid having the product dry on the surface of the wood. This can leave residue and prevent proper adhesion or absorption of sealers. You must rinse it off within 15 minutes. Read more on how to successfully apply cleaning solutions when pressure washing fences. With this cleaning product you will bring back the natural color of your wood, making the fence look fantastic. Bleach-based cleaners lighten the wood, whereas non-bleach based cleansers, gently remove the dirt and nail stains without any damage to the wood fibers or the wood's natural color while being very environmentally friendly to surrounding plants and shrubs. After you allow the cleaner to do its work, rinse it off.
The proper fence cleaning technique is to use light pressure, the right wood cleaners, and large amounts of water. Wood should be washed with pressures between 500 and 800 PSI. Generally, powerwashers come with several tips or adjustable spray nozzles. Be careful, using the wrong spray tip or nozzle adjustment can direct a stream of water so powerful that it may splinter and damage the wood. Experienced contractors who specialize in wood care have their wands or pressure-washers modified to work at these pressures. Never use a hot-water pressure washer. The hot water will raise the grain severely. Striping, which is the marking caused when someone starts or stops the cleaning stroke of the pressure washer wand too close to the surface of the wood, is another problem. A lot of striping marks will make the deck or fence look uneven and unprofessional. Homeowners should practice making an arc (a partial golf swing) with the wand before they start to pressure washing fence. As a general rule, previously sealed decks or fences usually need to be stripped before re-sealing. This involves using very strong chemical strippers, and is the sort of job best left to an experienced professional. Mold spreads easily and may return if all the mold spores have not been removed or killed.